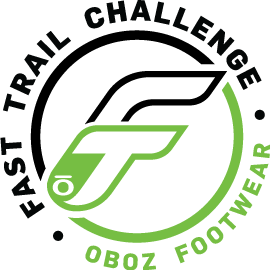 Oboz Fast Trail Challenge
Unleash your inner trailblazer and hike as many trails as you can in 10 days. The more you hike, the more chances you have to win prizes from Oboz and other great companies. Multiple giveaways will happen every day for all 10 days!
The Oboz Fast Trail Challenge is not about how far or fast you can go; it's about how often. Just choose any trail one mile or longer, record it on your tracking device, and you'll be entered to win. Every hike you do increases your chances of winning over the 10 days.
Your trail can be the sidewalk outside your front door or a path less traveled, it's up to you!
Even better—for every hike you complete during the Fast Trail Challenge, Oboz will plant one tree. If you complete a bonus trail, Oboz will plant two trees.
Oboz has been planting trees since its beginning in 2007 and has planted just over 5 million trees to date. Oboz is on a mission to plant 5 million more trees and with each of your hikes planting one more tree, we'll be on our way in no time.
The Oboz Fast Trail Challenge is free and open to walkers, hikers, runners, and people utilizing mobility assistive devices.
April 1 - Registration opens

May 1 - Oboz Fast Trail Challenge begins (12am MDT)

May 10 - Last day of the Oboz Fast Trail Challenge (11:59pm MDT)
Every Hike Improves Your Chance to Win!
Not only does Oboz plant a tree for every hike you complete, but each hike also gives you an entry into the daily giveaways from our partners. You will have the chance to win Oboz Footwear, AllTrails Yearly Membership, Osprey Pack, Drip Drop VIP Hydration Box, Dometic Bottle, and more!
Oboz Katabatic Hiking Shoes ($180)
LEKI Cross Trail 3 TA Trekking Poles ($169.95)
DripDrop VIP Box ($150)
Osprey Hikelite 26 Pack ($130)
Nathan Polarized Running Sunglasses ($60)
AllTrails+ Yearly Membership ($35.99)
AllTrails Nalgene Bottle ($20)
Dometic Thermo Bottle 120 ($29.99)
Registration Details
1. Create an account with Terrain Scouts.
2. Register for the Oboz Fast Trail Challenge.
3. Link an activity tracking account to the challenge (don't worry, there are several free tracking options! You'll be able to create one if you don't already have one).
4. If you are using an activity tracking app on your phone, be sure it is downloaded and that you are logged on. Better yet, go test it out and make sure you know how to start, end, and save your activities before the challenge starts.
---